Pizza is local. A guy from Cincinnati traveling in Italy will thumb his nose at the pizza because it's not what he used to eat in Ohio when he was going through puberty. Italians are no different. I know Romans who make rude gestures when they talk about the pizza from Naples.
"The crust is too thick — and then it falls apart in the middle. It is without structure."
I've eaten a lot of pizza in Naples; I've downed an obscene number of pies at Baffetto in Rome; I've had Sicilian pizza in Sicily, Pugliese pizza in Puglia and Ligurian pizza in Liguria (excellent, by the way) and pizza, at its best, is totally local, which means to say it reflects the personality and the groceries of its neighborhood.
Obviously I'm not referring here to pizza chains, which produce cookie-cutter pies of no interest. Nor am I referring to take-out pizza, which is an abomination. Take-out pizza absorbs the taste and smell of the cardboard it travels in. By the time it arrives you may as well just eat the box. No, I'm talking about real pizza.
This brings me to Connecticut, our new home. We reside now in the farmlands of Fairfield County, just under thirty-nine minutes from Frank Pepe's Pizzeria Napolitana in New Haven. I can make it in thirty-four if I'm feeling peckish. In the Pantheon of the world's pizza joints, Pepe's on Wooster Street has got to be in the top ten. And the crowning jewel on Pepe's menu is the white clam pizza, which the family proclaims is an invention of Frank himself. In 1961 while preparing an appetizer of fresh-shucked clams, he had a moment of inspiration. He chopped up the clams with fresh garlic and a healthy glug of olive oil and tossed it all onto a round of pizza dough that was headed to Pepe's famous coal-burning oven. Bingo — out came the world's first white clam pizza. Or so the story goes.
It's not an Italian dish, for sure. In all my time in Italy I've never seen or heard of a pizza alle vongole. There are some vague tales of a clam pizza in Venice; another in Liguria; but I've never seen it. Clam pizza a New Haven phenomenon.
Is Pepe's the best white clam pizza in Connecticut, which is to say the world? There is much debate about this, so I dedicated myself to the job of finding the truth, sacrificing my body for science once again.
First of all, Pepe's is not just on Wooster Street. There are offshoots — in Fairfield near where we live — in Danbury, Manchester, Yonkers, West Hartford and at the Mohegan Sun Casino in Uncasville. And the quality of the pizza varies from location to location. I've sampled Pepe's pizza in Fairfield and it's pretty damn good — but not up to the standard of Wooster Street. I believe this to be a factor of Pepe's original coal-burning oven, which dates back to 1925. They've tried to replicate it in the other locations but I don't think they make ovens the way they used to.
Cheese or no cheese is the pivotal question. The Italian rule is never to eat cheese with seafood. And it's a good rule. Cheese — especially mozzarella — envelops and buries the taste of the clams. It's counter-productive. Pepe's understands this and uses no mozzarella but adds a sprinkling of pecorino Romano on top. It's sharper and less goopy, but I think the pizza would be better without it.
In the spirit of science I tasted a clam pizza from another place, which I will not name. They covered the pie in mozzarella and then added the clams, which came out of a can. It was god-awful. It was like a bad tuna-melt, which is the worst sandwich ever conceived by man. Tuna and cheese, which is in itself indigestible, and then you grill the tuna, which had already been fully cooked to begin with, so whatever taste there was is burned away and then buried in cheese. Oh my God. But I digress.
The best clam pizza I've ever tasted? With apologies to Pepe's, which I truly love, the best I've had is at a place called Tarry Lodge in Westport. It's a Mario Batali / Joe Bastianich operation, so it's no surprise the food is good. But the clam pizza is transcendent. No cheese of any kind — just clams, garlic, oregano and oil on a great crust. But the clams that they scatter over are still in their shells — as yet uncooked — so when the pie hits the heat of the oven, the little clams open and release their sweet/briny liquor into the garlic, which turns golden in the heat, and then it all releases into the blackening crust of the pie. Oh baby; oh baby.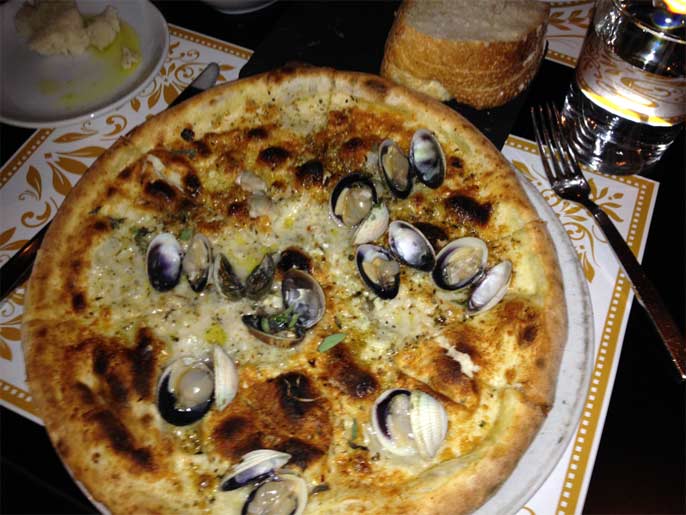 Michael Tucker is best known for his portrayal of Stuart Markowitz in the TV series L.A. Law. He has plied his trade for forty years — on stage, on TV and in films. He was last scene at The Berkshire Theater Festival in Brace Yourself by David Epstein.
He has published three memoirs and his first novel, After Annie, was published in March, 2012 by the Overlook Press. The paperback will debut on April 30th. His blog — Notes From the Culinary Wasteland — chronicles his eating adventures in New York and Italy, where he lives with his wife, Jill Eikenberry.