David Sands
Chasing Laugharne light Dylan's Walk
Where the sun sets twice
A propped up shed appearing
Apparition, Tsunami thrown
By a path unwinding into a straight line
Where The Boat House waits, 'ready or not'
The Taf Bay home in death abandoned
Storm-flung cormorants arrive by dark
Nestling on false-memory stilts
Cliff-down, crutches thrown, rowboat gone
In lighthouse-white, hiding, a sunken Ark
Obscured by landlocked anemone trees
The stone battlements for a charging sea-gale
Branches conspire, conceal we breathe, fence-leaners
Truants stealing a view we desire and more
In a pastel photographer's light, water calls
The tiled apex points to a slow-drain estuary
Where seabirds, skim-skate speech commas
Above the pickers tucked up in cockle beds
An ice cream signs a way
Beyond sits a dolls' house, a Knight's move away
Over step-stones into book-shopped, till-guarded
Room, strangers stray inside, hungry senses
Caitlin chasing after laughter child
Absent on this dog-dusk last day of spring
With all wicked and raging fights exorcised
Silenced for a weave-weft voice to rewind
On a staged sitting room, stopped to stare
A mantelpiece clock, fixed in time, by fate
Dark day, 12.40 pm, November 9th.1953
Climb a final stair to a glass-top display cabinet
An opened book seducing, on the left, a verse
And Death shall have No Dominion
To the right, a lithographic outline, a forlorn figure
When glass-top opens, breathed-in the homage
Johanne Heisig's Art, 'This side of Truth'
Escaped the Berlin Wall: Der Teil Der Wahrheit, Dresden, 1987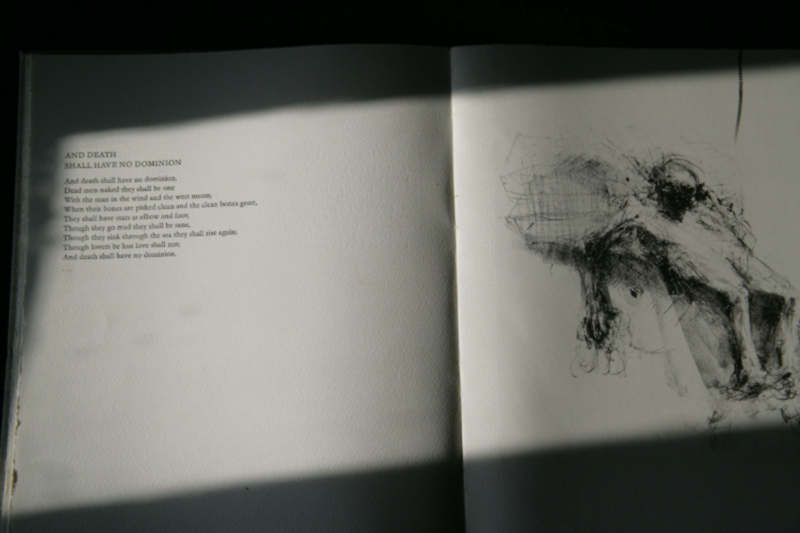 Photograph: © David Sands
[to be published in his forthcoming book, Dylan Thomas, Made Genius, How synaesthesia influenced his behaviour and creativity]
David Sands is an internationally established freelance writer and photographer in ecology, zoology, psychology and a PhD in ethology. Currently editing 30 years of his poetry and completing a book about Dylan Thomas relating to research on synaesthesia and high-functioning autism, Made Genius.
Contributed to Bolton International Poetry Festival 2014 with a poem included in Live from Worktown Anthology
Published works include The Tree - David & Charles (poem and photograph), The Best Blue — the cloud-photography and poetry of David Sands, (Northern Sky 1988), '500 questions CATS' (Hamlyn) which answers questions about cats and behaviour. His most successful major book, Know Your Dog, based on current research into canine DNA and behavioural studies, is published in 15 languages, reprinted and published in USA and Canada editions (Octopus-Hamlyn 2008-2012).