Deep in sadness over the death of my good buddy, Kitty Boy Carrizo, I walk to the edge of the pond my kids named Little Lake, decades ago, when they were little. 
In the pond, winter dies. Across, a neighbor stops, rolls down her window and shouts out to me.
Her golden retriever has disappeared. 
Will I keep an eye out for him? 
Yes, of course - my drone eye, too. 
A duck swims in the NW corner of Little Lake.
In the NE corner, litter floats.
A week later, I sit at my computer to enlarge the story. My phone chimes - my eleventh call from Steve Oomittuk in one week. Tikiġaq just landed another bowhead. 
Eleven whales in one week! Quota filled!
Utqiaġvik just landed three. Seventeen to go.
I'm supposed to be up there - not down here.
I have documented the hunt for more than three and a half decades, always from the low angle. I now have a drone. I'm eager to shoot the high angle.
The Tikiġaq Harpooners and Barrow Whalers high school basketball teams won regional titles and were slated to compete for their respective Alaska 2A and 3A State championships at March Madness in Anchorage - so too the Harpoonerettes and Lady Whalers.
Funded by Social Security and generous friends, I photographed tournaments in both villages. I planned to photograph March Madness and then follow the athletes home - first to Tikiġaq, then Utqiaġvik, to document Harpooners/Harpoonerettes/Whalers/LadyWhalers helping family and community harvest bowhead.
COVID 19 canceled March Madness. Travel restrictions keep me out of the villages.
In 2013, to save him from Cat Killer Dog, I trapped a terrified, screaming, clawing, feral, cat in Carrizo, Arizona. Two days later at 1:00 AM, Christmas Morning, Carrizo and I entered our Wasilla house as two best buddies, bonded for life.
Were I now up north, I would not have heard the loving purr Carrizo gifted me less than three hours before he died. I could not have wrapped my arms around his warm, orange and white fur-clad, breathing, body.
I have spent more time with Carrizo these past six years than with any human. Mornings, he would melt into my lap by the wood stove as I drank my coffee. At work, he often found keyboard commands I didn't know existed. Come midnight, we cuddled again in wood stove heat for The Twilight Zone. He slept by my head.
MY GOOD BUDDY CARRIZO CAN'T BE GONE!
Bowhead will return to Tikiġaq and Utqiaġvik next spring.
Carrizo died once.
I had to be home for him.
COVID 19 made certain I was.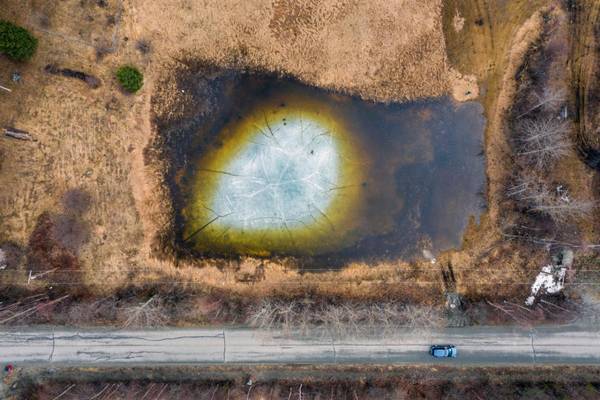 Late last summer, Bill Hess, who flunked his BYU marketing course but was named Outstanding Student in Photojournalism, released his self-published, print-on-demand book, "Carrizo," to Amazon. Sales were dismal - barely 100. All 18 Verified Reader reviews were stellar - 5 stars. He received scores more glowing reviews on Facebook and Instagram. He has just begun work on the sequel, "My Good Buddy, Kitty Boy Carrizo." His screen often blurs in front of him. Carrizo will not be forgotten.