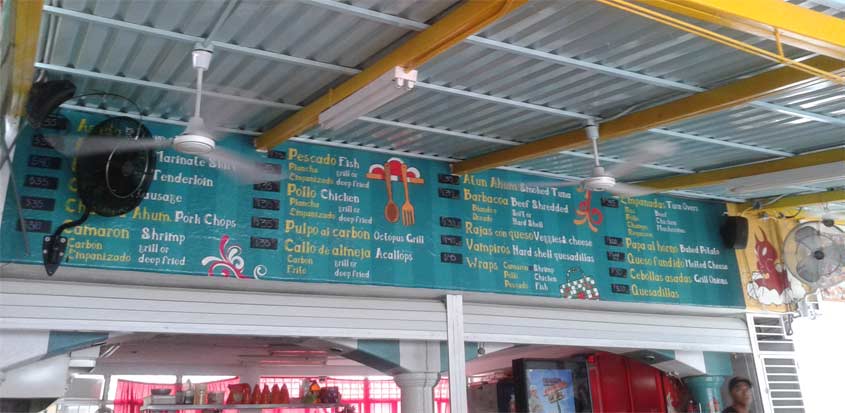 The plates are covered in plastic. The salsa bar is brighter than a colony of fire ants consumed with kaleidoscopic spices and garnishes and effervescent puddles: lime green and yellow and orange fluorescent tints; a vast evolving rainbow and spoons full of fungus. My intestines are burning brighter than the earthly sun. Insomnia comes from abdominal agony—gastritis—but this is not the fault of the Así y Asado geniuses, connoisseurs, and aficionados—my foolish desire to gorge on grilled chilies and alcohol in a paradisiacal third-world oasis with a house full of hormigas.
Nobody complains about plastic baggies wrapped around dishes when the tacos are (definitively) among the most delicious in Cabo. Neighbors move their adjacent restaurants: burgers and smoked cuisine, but they are no match for the flavor of Así y Asado. There is obviously no fungus on the humongous ladles. This is a top-of-the-line taquería.
The servers and cooks know my name.
"Mateo!" they shout: "Mateo!"
Employees do not wear name tags. They are adorned in black t-shirts with a red devil and sneakers, which should have said it all. The furry tail of Beelzebub has got me in its tentacles. It curls around their abdomens. The fact that they do not use nametags: a testament to the affable and gracious nature of these young men and women. The two owners are fast to flash colossal smiles. These are genuine. The atmosphere is the epitome of welcoming. Pervasive visceral Mexican hospitality oozes from the eddying grill smoke.
Insatiable clients are pervasive: tourists and locals alike. Así y Asado has been a paradisiacal staple for six years—and grilling stronger than ever. They started small (diminutive and without fanfare) and built a reputation with tacos of asada and the menu has evolved to glorious proportions. There are no menus to hold with sweaty fingers. The wall is a collage of Cabo and festive Mexican murals, and atop it all the delectable items are displayed. The prices have risen through the acquiescence of triumph, but the food is well worth it. This place has a purpose. These guys have earned their stellar reputation. The patrons can enjoy tacos of all persuasions: arrachera, carne asada, barbecued beef, chicken, smoked tuna, empanadas, octopus, corn-on-the-cob, medley of vegetables, and grilled onions.
Feast your face with smoked marlin as mist machines rain. To-go orders are available by the kilo and half-kilo. Expect to pay approximately forty pesos (three American dollars) for individual tacos. Do not expect an elegant gourmet affair. Most tacos are grilled (al carbon) and the charcoal smoke and eddies and fire is the centrifugal force. The place is clean and festive and full of love; with (exceptionally) fast service and table-turning maneuvers, and the best tacos in Cabo San Lucas. Así y Asado is situated a few miles outside of San Lucas on the way to San Jose del Cabo. To be specific: Kilometer 3.8 (next to Cabo Cielo minimarket; adjacent to a humongous vacant palapa).
Do not expect a posh gourmet fusion debauch, or to be taken advantage of via the ineptitude of tourists in a foreign country. Come hungry; thirsty too. This taquería is clean and an aesthetic that permeates from the grills to the simple restrooms: one of simplicity of purpose. Beverages include sodas and beer, blended fruit drinks, traditional Mexican flavored waters: horchata, jamaica, chia.
Así y Asado is a favorite, and for good reason. A generally accepted concept: the best tourist corridor taquería; perhaps the best Los Cabos has to offer. It is more than the food—atmosphere is on par with paradise. Prices rise annually, but the variety of cuisine is always evolving—true taco fusion inspiration. Grilled steak is the specialty. Flank arrachera is awesome here. Vegetarians can take advantage of the rajas (loaded with cream and cheese). Quesadillas can be filled with all types of tacos. Tortillas of corn (maíz) and flour (harina) are offered.
It is time for some medicine and a good old-fashioned siesta, after binging at Así y Asado—with the ambition of an atavistic caveman. Hours are subject to change, but the norm is 10:00 am—9:00 pm. Delivery for takeout can be reached at 01 (624) 105-9500.
Like nomadic Pericú natives before him, Matthew Dexter survives on a hunter-gatherer subsistence diet of shrimp tacos, smoked marlin, cold beer, and warm sunshine. His short fiction and narrative nonfiction has been published in hundreds of literary journals and dozens of anthologies. He is the author of the novel THE RITALIN ORGY (Perpetual Motion Machine Publishing 2013). He lives in Cabo San Lucas and can be found here: matthewdexter.com.