Isle of Skye
488 Driggs Ave.
Williamsburg, New York 11211
isleofskyepub.com
Growing up there was one basement bar in my southern Minnesota hometown called The Cellar and it was known nothing good went on down there. I learned to have an aversion to basement bars so when I was first invited to Isle of Skye, I had my doubts as I walked down into the dark dungeon. The ambiance is that of a 14 century man cave inside a whisky barrel; chesterfield couches, authentic 14 century fire place complete with the Scottish lion above it. The bar is daunting with its wall of scotch and whisky but the hospitality of the owner and the bartenders makes you feel right at home.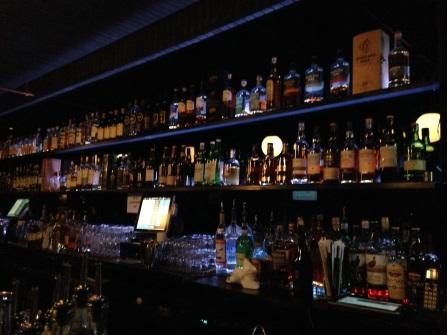 Scott Cook is originally from Dundee, Scotland but has been bartending for the past six years in New York. He had a 'what if' fantasy of opening his own bar when Steve Owen, originally from Liverpool, England, gave him the necessary push to make his 'what if' a reality. Isle of Skye opened its doors April 5, 2013 and has been flourishing since. What makes it thrive? Scotch bars are a rarity but even more rare; Bartenders that know scotch and whisky who won't belittle you about not knowing it. As it turns out this is a teaching bar too. Every Tuesday night at 7:30 pm a representative from a scotch or whisky distillery sample their liquor and give a brief history behind the distillery as well as a rundown of the flavors you should experience on the nose and pallet. Scott, along with the other bartenders have shown a willingness to help accommodate even the most reluctant drinker to the world of scotch and whisky. It's not about the buzz for these bartenders but about the enjoyment of the flavors in each liquor.
For the moment, Isle of Skye offers a small menu consisting of shepherd's pie, steak and mushroom pie, vegetable pie, scotch eggs, and a sausage roll but Scott has been working to get a fully functioning kitchen running by the first of this year. The plan for the menu is "whatever the chef wants!" Scott hired a chef from another restaurant in the area and has given him full control of the menu. He can order what ingredients he wants and make what he wants ranging from traditional pub burgers to lamb roast on Sunday. The prospect sounds exciting but I hope the shepherd and steak and mushroom pies stay a consistent menu option. They're beautifully made pies and I always flip-flop between which one is my favorite but I'm not ready to give them up. I haven't found where these pies come from but they taste of great-grandma's recipe brought over from the old country.
Everything about Isle of Skye says comfortable from the ambiance to the staff. It's not just a great place to relax at but Adam Wagner has just as much fun working there. "It's like a cozy castle that can act fancy, but with Scotty at the helm, it's usually too much fun." The bartenders have as much fun as the customers and are always available to join the conversation. There's always a seat to be found and a scotch or whisky lesson to be had. Isle of Skye is easily a favorite among scotch and whisky experts, amateurs, and the regular bar crawler.
Scott Cook, owner of Isle of Skye.
Emily Coleman graduated from Briar Cliff University in Sioux City, Iowa and moved to New York to pursue a career in editing. She has been published at Postcard Shorts and has been regularly writing reviews for the Blue Flame online magazine. Recently she has started her own editing services called M.E. Editing; meeditingteam@gmail.com.